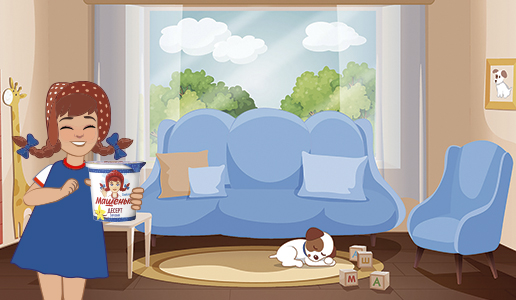 Mashenka is getting closer
"Mashenka" curd desserts have been winning the favor of consumers for over 20 years. And right now the main heroine of the dairy brand PepsiCo in Ukraine is ready to get off the dessert labels and get to know us in person. Creative agency Brain Tank performs all the conditions for her to become closer to the fans.
Brain Tank provided a non-standard integration of "Mashenka" in YouTube, banner system, and social networks. The character appears in the most unexpected places and realizes that she is part of a commercial. The girl is surprised when she gets on YouTube, and will definitely offer the viewer a curd product. She can meet you on the banner of the information site and announce that she has found a dessert that she enjoys while you flip through the news. Mashenka travels through the network, meets people, and fascinates with her openness and childlike spontaneity.
The creators of Brain Tank "revived" the main heroine of curd desserts, turned her into a friend that Ukrainians have known for a long time, in order for the dairy brand to enter the market organically.