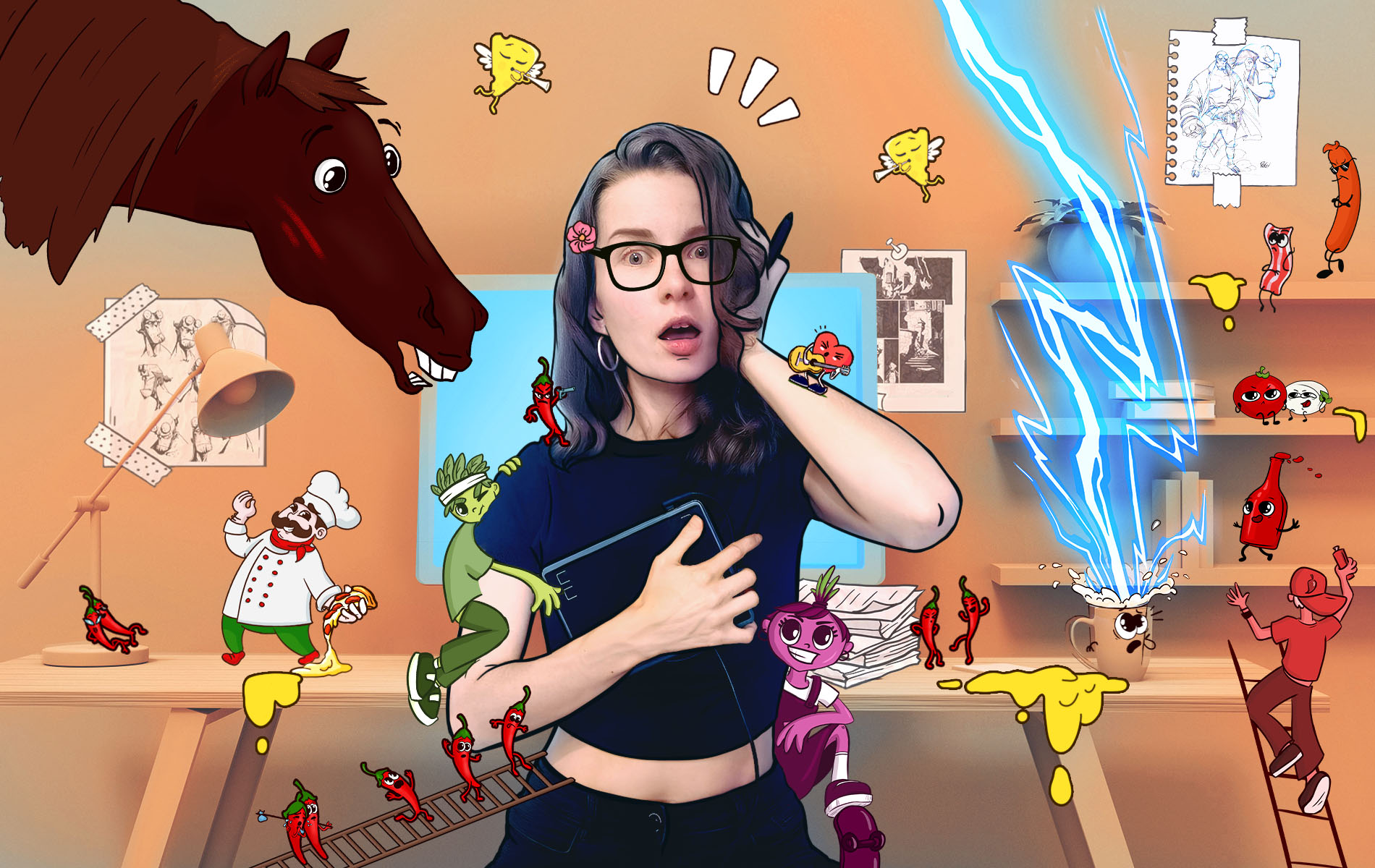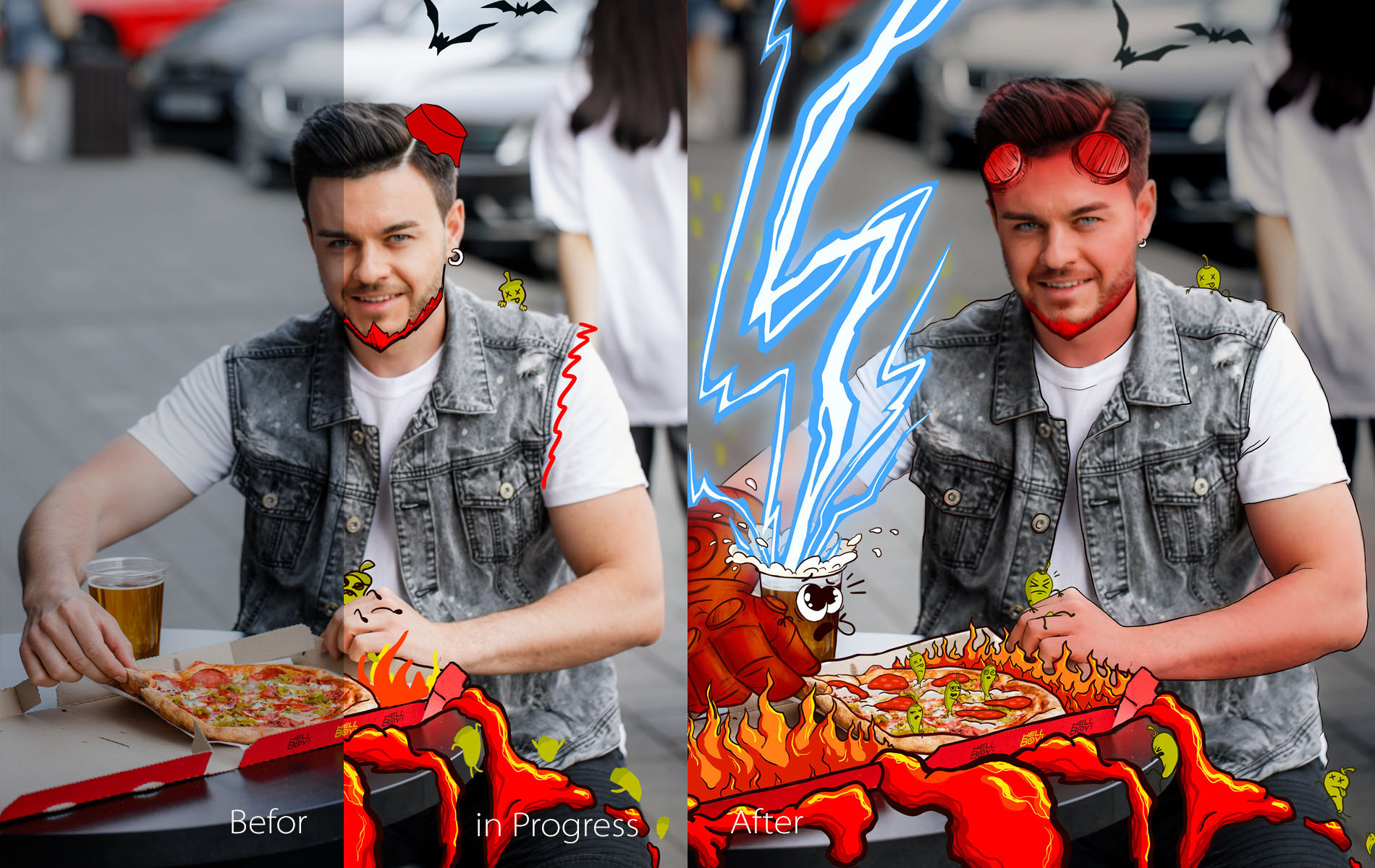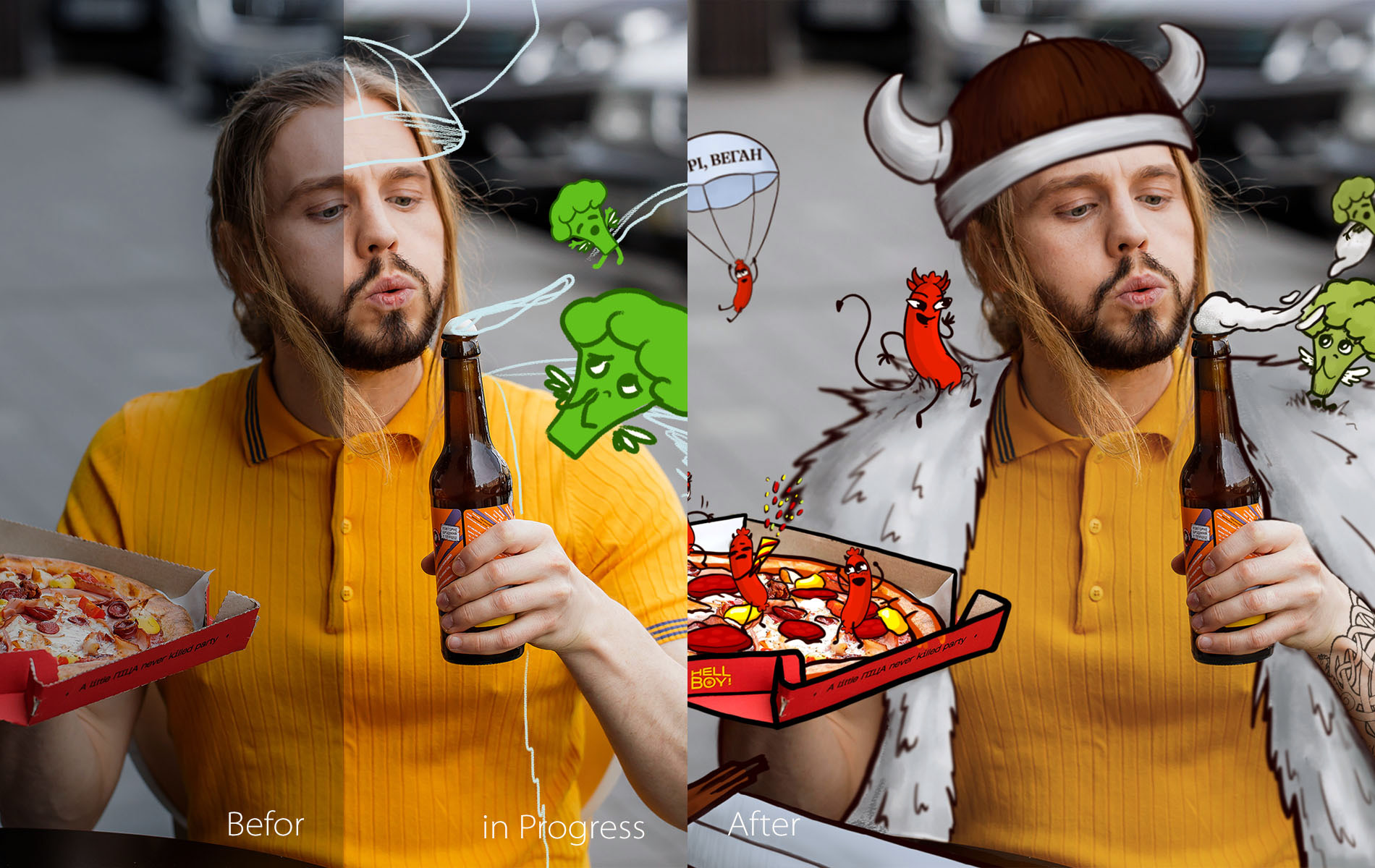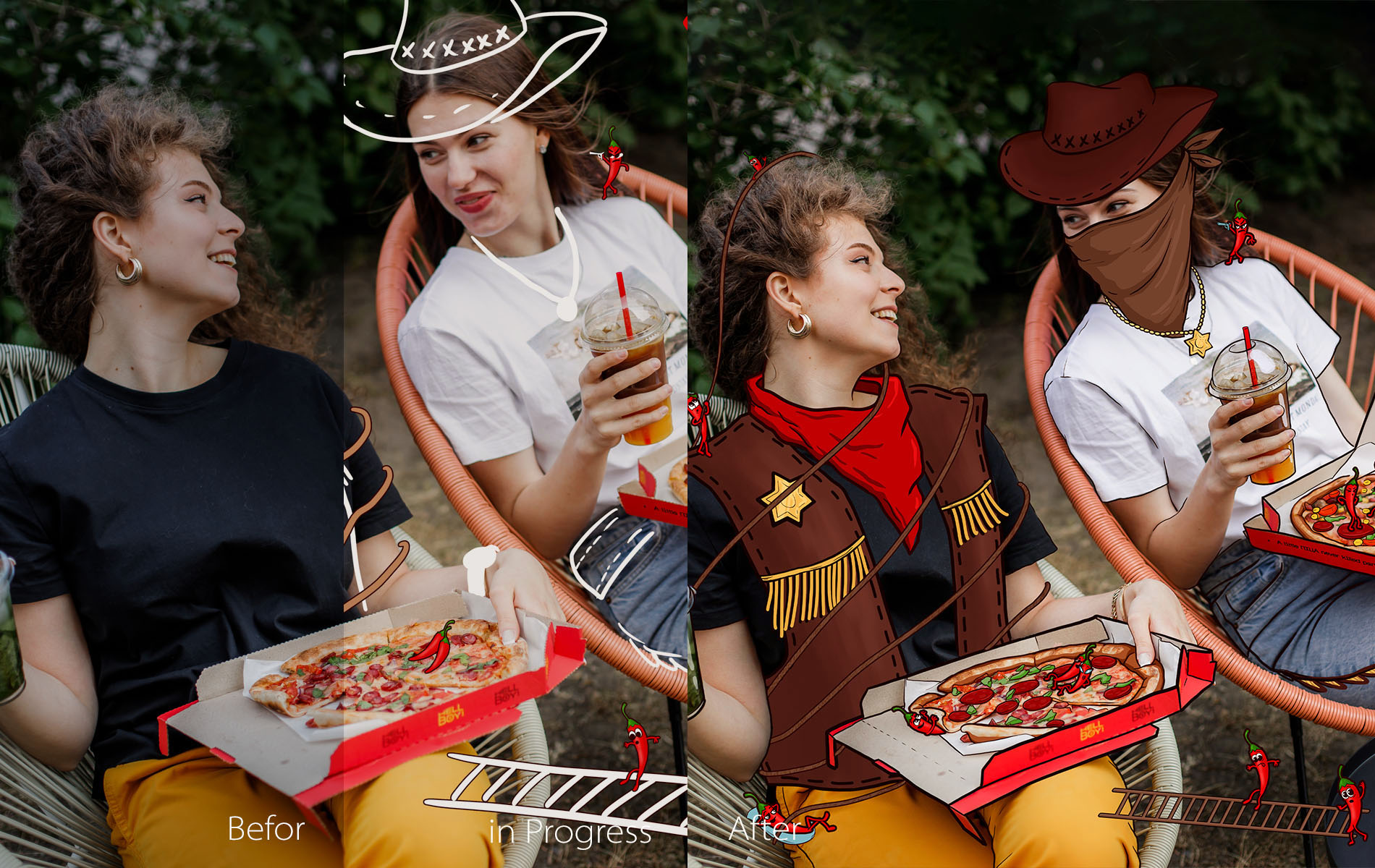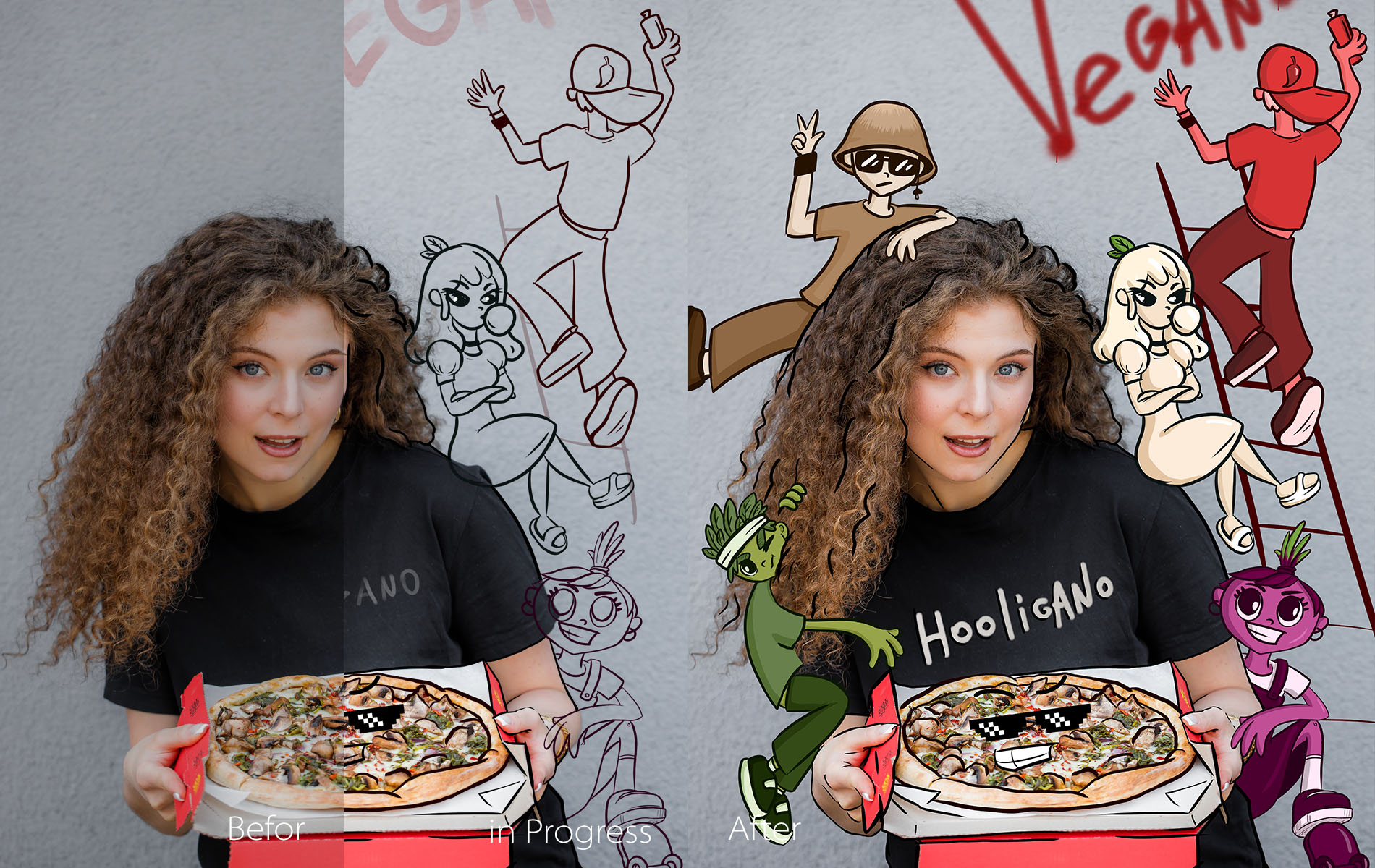 How to paint flavor
It's hard to imagine what goes on in an illustrator's mind when they work on a project, but collaborating with our team on the new Hellboy pizza brand offers a unique opportunity to peek inside and better understand the intricacies of the illustrator's craft from inside.
And that's exactly what we'll do together with the Creative Director of the agency, Andrii Franchuk.
We were tasked with creating illustrations in a trendy style for the new Hellboy pizza brand, crafting a separate story for each pizza and combo.
Many people worked on the project: some of the team helped generate ideas for the illustrations, others resized them, and, of course, under the manager's responsible guidance, communication and alignment of the final concepts with the client took place.
Before embarking on a pizza journey, we'd like to introduce Katia. Katia Gavrilko is the Project's Illustrator, and it was she who breathed life into the pizza stories through her illustrations.
Hellishly Spicy - Hellboy pizza
Let's start with the name of the pizzeria, as the story of this pizza is closely related to the name. According to our illustrator, the unconventional term "Hellboy" immediately caught her interest, as it actually carries the image of a beloved comic book hero adored by young people.
"After getting to know the character, my interest in the project grew even more because the universe turned out to be very intriguing for me," says Katia.
Receiving materials from the client for work, Katia immediately felt how she envisioned this particular story. It was as if she had a conversation with the hero and knew how to convey the vibe of Hellboy himself through her illustrations, and most importantly, how to emphasize the flavor of this "hellishly spicy" pizza with jalapeño peppers. By the way, notice that in comparison to our hero, the peppers no longer feel as spicy and "hellish" as Hellboy.
We've covered the story, and now the creation process: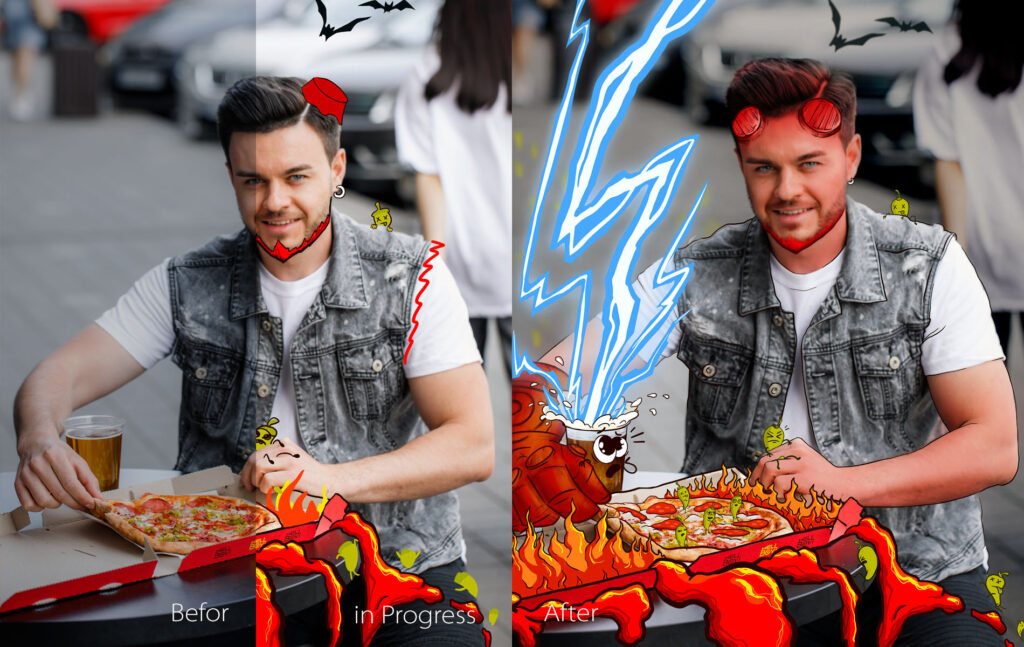 Sorry, Vegans - a pizza for true carnivores
There were many pizzas to create. That's when our team came to Katia's aid. Copywriter Ilya and Project Manager Maria helped come up with unique stories - each with a different character, mood, and genre. For example, "Sorry, Vegans" - a pizza for sincere meat lovers, for which Ilya came up with a humorous story featuring a broccoli angel on one shoulder and a sausage imp on the other. Our hero, wearing a horned helmet and with a nod to the Vikings, as a true hearty meat eater, chooses the side of the sausage and sends the sausage imps to his pizza. The broccoli takes flight on a frothy cloud, which our hero blows from his drink, thus rejecting their vegetarian idea.
A bold composition. Now, as is customary, let's see how it was created:
Hellish Duo - a rogue combo with a kick
Well, it's time for "Holly Holly" - a combo of two pizzas combined. An interesting offer from the pizzeria and, equally interesting, a complex task for illustration. In the creative world, even managers get creative, so by combining the "Hunter" and "Rancho" pizzas in terms of flavors, our manager Maria came up with a blockbuster-worthy story featuring sheriffs and outlaws. Fearless chili pepper outlaws are on the run but are determined to sneak into the pizza. While the sheriffs, taking a break, lose their vigilance and fall into the spicy trap set by the chili troublemakers.
In our opinion, this story is worthy of a Warner Bros. adaptation. Agree?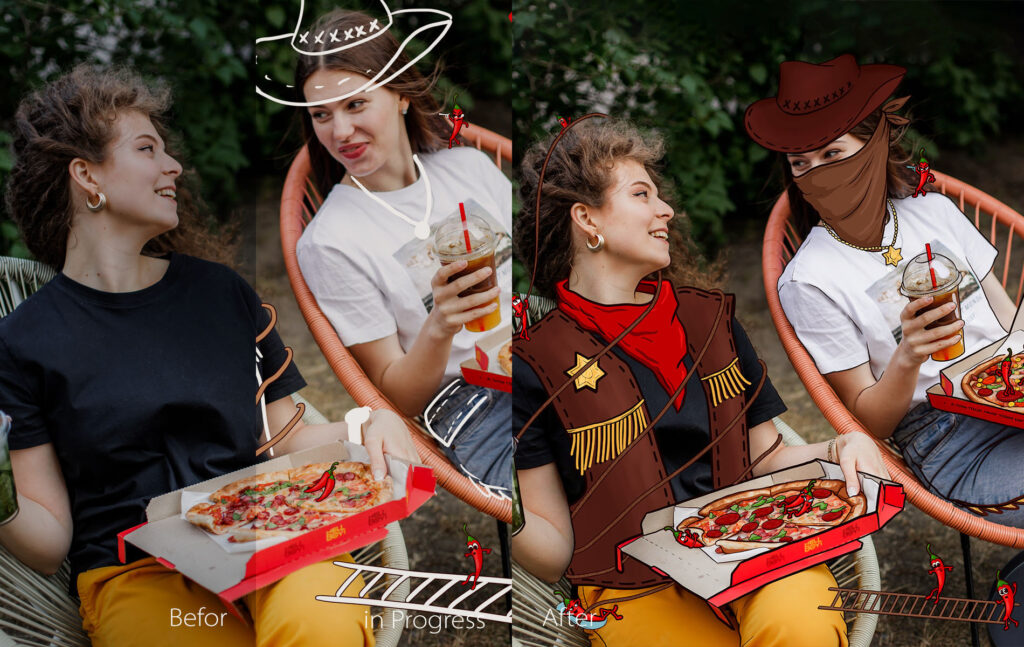 Vegetarian Mischief - because it's not about being boring
And finally, "Vegano Khuligano" - a vegetarian pizza with mushrooms and red onions, to highlight the diversity of all these stories while simultaneously weaving a rebellious atmosphere throughout the illustrations. After the spicy meaty adventures, Katia decided to depict vegetarian mischief as a modern gang of stylish ingredients who aren't afraid to be themselves and, through their graffiti artistry, express their inspiration for vegetarianism to others.
We would gladly join such a gang too: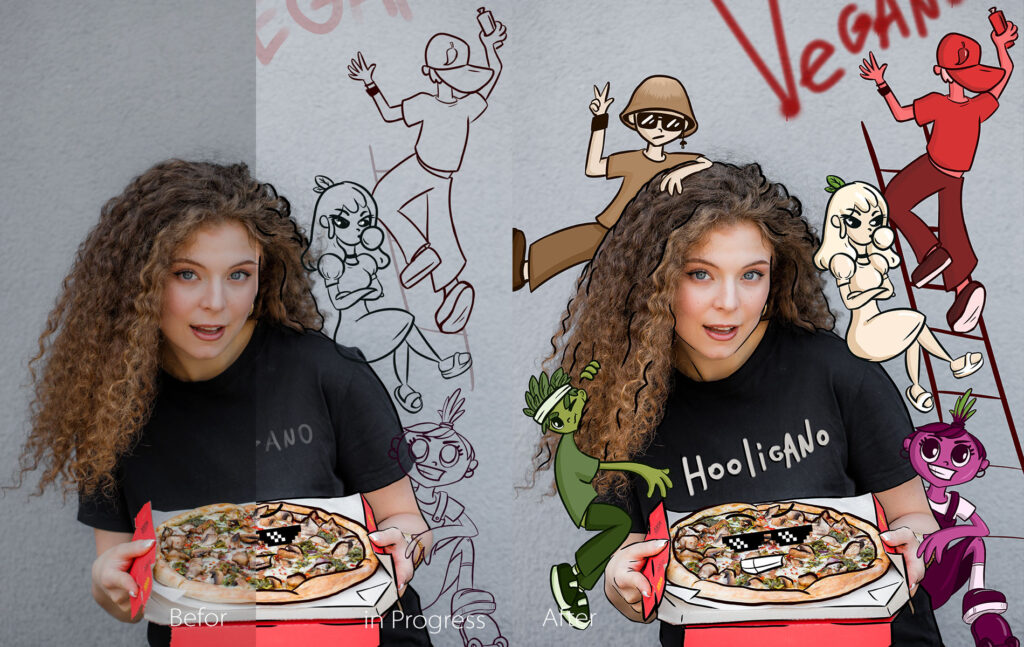 There are so many pizzas that we got lost in their number, but we recommend you to check out the pizzeria's Instagram and scroll through the feed with all the illustrations where Katia brought to life the collective fantasies of the entire team.
Animation with Katia:
We would like to express our separate gratitude to Dina Merezhko, the Marketing Director of HellBoy Ukraine, and their entire team, for the engaging and enjoyable collaboration, the result of which truly makes you want to take a bite!
So, here's a slice of pizza for creativity, and let's continue to create new Ukrainian advertising!